It was not surprising to me that nearly half (48 percent) of buyers that Software Advice covered in its HR Software BuyerView 2015 currently still use manual methods, such as pen and paper or spreadsheets, to handle their HR employee data tracking.
Prospective Buyers' Current Methods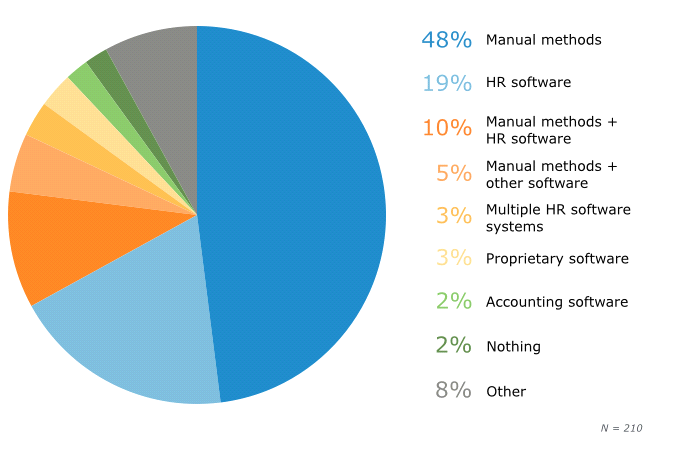 Source: Software Advice, June 2015
Why do more than half NOT USE HR Software? I suspect many SMBs owners and executives think that HR software is complex and expensive. Hence, the small and mid-size companies hold off on investing in HR automation tools.
HR software does not have to be complex nor expensive
The good news for small and mid-size organizations is that HR software does not have to be complex nor expensive. There are many powerful yet affordable systems designed for SMBs. HRSource is one of them. HRSource not only tracks EMPLOYEE data, it also does APPLICANT TRACKING, the 2nd most sought-after tool after CoreHR, according to the study.
By having both HR functions (applicant and employee data tracking) share the same database, there is no need to copy/paste the information from an applicant tracking system (ATS) to the employee database when a person is hired.
It's no secret that HR Departments have more than enough on their plate – managing current personnel, finding new talent, fulfilling legal compliance mandates, to name a few. The good news is that software is available to help alleviate the situation. However, the market has expanded and morphed through the years that it's no longer a simple matter to navigate through the various options.
"But there are so many options out there! Where or how do I start?"
How can HR Departments in small and mid-size organizations start their search when there are too many "HR systems" out there? Well, not all HR system are alike. Bottom line: you have to start with the list of HR functions that you need. By sticking to list, you can eliminate half the systems in the marketplace.
Additional suggestions:
Define what HR tracking and reporting capabilities you "must have" (vs. "nice to have"). A good starting point is the list of spreadsheets you now use. In addition, see the sample list in Figure 1.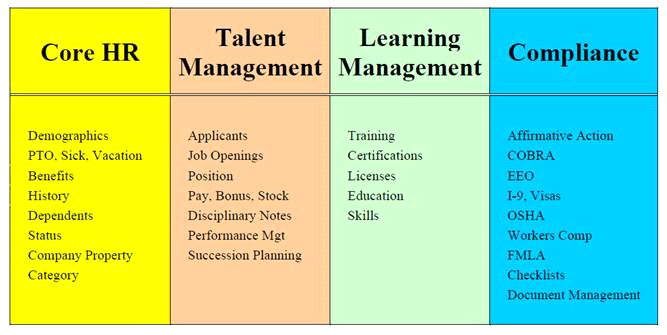 Figure 1. HR Functions Supported in HRSource
Many HR systems are application-specific: applicant tracking system, or performance management system, etc. If you need a system that does more than just one or a few functions, then you can eliminate those systems that don't have everything or most everything that you need. Don't waste your time on systems that have "cool features" but can't address the items in your "must have" list.
Define a price range that you are willing to work with. No point in evaluating systems that you can't afford.
Explore internally if there are any "givens":

Platform – Do you need it to run on Windows? Mac? Linux? Do you care?
Deployment – Do you plan to host the system in-house? or do you want a cloud-based system? If cloud-based, do you want your own system in a private cloud, or do you want the vendor to host your data in a shared, multi-tenant SaaS environment? (Saas = software as a service). Or are you open to all approaches?
Openness – Do you need the HR system to interface with your Payroll System, Timekeeping System, and other 3rd parties? If so, then cross off your list any "closed systems".
Flexibility – Do you need the system to be flexible because there are unique things with the way you do business? Will you need customizations? What types of customizations? Note that many Saas application have limited customization capability.

By now, I hope that your list is much shorter and you can start looking at demos. At this stage, you have a short list of vendors whose systems address your "needs list". Now, you can compare reporting capability, ease of use, customer feedback/track record, implementation support, training, customer service, and finally, cost.
If you are a small to mid-size organization (SMB), it's best to deal with vendors that exclusively work with companies your size because they understand your needs and processes better. Another reason to do so is because you don't want to be a "small fish in a big pond."
Keep your organization's business objectives in mind. The "latest and greatest technology" or "pretty fonts and attractive colors" are irrelevant if it does not move you forward towards your business goals. The right question to ask is not "is it web-based, or is it in the cloud?" The right question to ask is, "Will the system do what I need it to do, and can it do it efficiently and effectively?"
When it comes to HR systems, make sure the system is "C-F-O" – Comprehensive, Flexible and Open. Make sure the system has COMPREHENSIVE HR functionality that you need, the FLEXIBILITY to be customized to fit your unique situation, and the OPENNESS to work with other systems you already have and use. Check out the vendor's sample implementation schedule and make sure it aligns with your implementation expectations.